For standalone Merlin Tickets customers, orders can be found using the admin area, which is accessible by visiting your website (e.g. www.merlindemo.merlintickets.com) then adding /admin to the end of the URL (e.g www.merlindemo.merlintickets.com/admin)
This guide shows how to extract and manipulate information from online tickets where additional information has been requested for special events.
Go to the admin area (Websitename.merlintickets.co.uk/admin)
From the dashboard;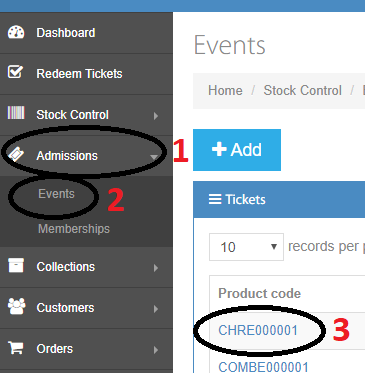 1. Admissions
2. Events
3. Find the event and click it.

When in this Menu;
4. Click "Tickets Sold"
When in this Menu;
5. Export the data by clicking "Export"
The export will give you a .CSV file, this can be imported into any excel or open office spreadsheet program.
Here you will want to do some manipulation to tidy the data up. I'd suggest keeping:
Order number | Description | Valid From | First Name  | Last Name 
then sort ascending by "Valid From" this will give you all tickets in date and time order for the Christmas event.
Still need some help? Get in touch at www.merlinsoft.co.uk/contact