1. Log in to Merlin EPOS
2. On the bottom bar, click on the 'Gift Aid' button.
3. A new window will appear asking for the Gift Aid Customer Details. Fill in the details and click 'OK'.
4. A green window will ask if the customer objects to their details being used for marketing purposes. Click 'Yes' or 'No'.
5. Once this has been done you will see at the top of the EPOS screen that there will be the customers' name and an orange gift aid box. You can now sell the tickets they require.
6. Click on the hot-page event, select the tickets and amounts (i.e. 2 x adults, 1 x child) and then select the date they are attending.

7. The transaction will show on the right-hand side of the till. Once this has been done you can then process the payment as normal.
8. Click on 'Payment', then select a payment option and proceed.
If you wish to see the transactions in a report in Back Office then follow the instructions below.
1. On the left hand side, double click on the 'Gift Aid' icon, then click on the 'Gift Aid Sales Report (Admissions)'.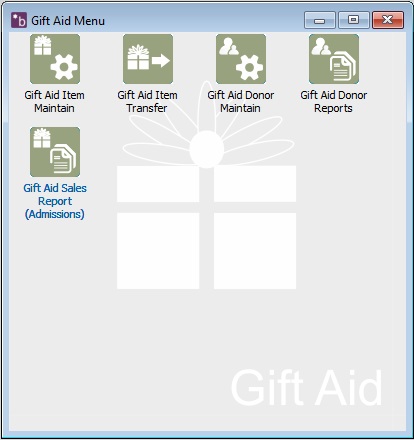 2. Select the criteria you require for the report and then click on 'report' and 'preview'. This will provide you with two separate reports.