For standalone Merlin Tickets customers, orders can be found using the admin area, which is accessible by visiting your website (e.g. www.merlindemo.merlintickets.com) then adding /admin to the end of the URL (e.g www.merlindemo.merlintickets.com/admin)
If you have a full Merlin system, please use the link below
https://merlinsoft.zendesk.com/hc/en-us/articles/215950363-Creating-Events-on-Merlin
Step 1. Create an Event.
Go to Admissions > Events > Add.
Fill in all the relevant details.
Event code: This should be in FULL CAPS and unique.
Description: This is what is displayed to the end user.
Long description: Is displayed on the product page. Please use HTML formatting.
Maximum Places: Leave blank. This is added later.
Multiple redemptions: if people are expected to leave the venue and return, this can be checked to allows multiple scans of their online ticket.
Additional collection: Optional, can be used to up-sell.
Require attendee details: for events that require more information for each attendee. (this needs to be setup by us @ Merlin before this is activated)
Image: Currently only supports PNG files.
Once these have been filled in, press save. You will now be presented with two new entry boxes below the event area, and two warnings informing you that you need to add tickets and dates to the event.
Step 2. Creating the tickets / Variations
Here you need to add descriptive ticket names, and associated pricing. If your event has 1 price, a general entry ticket should be created. (for multiple prices, create multiple tickets)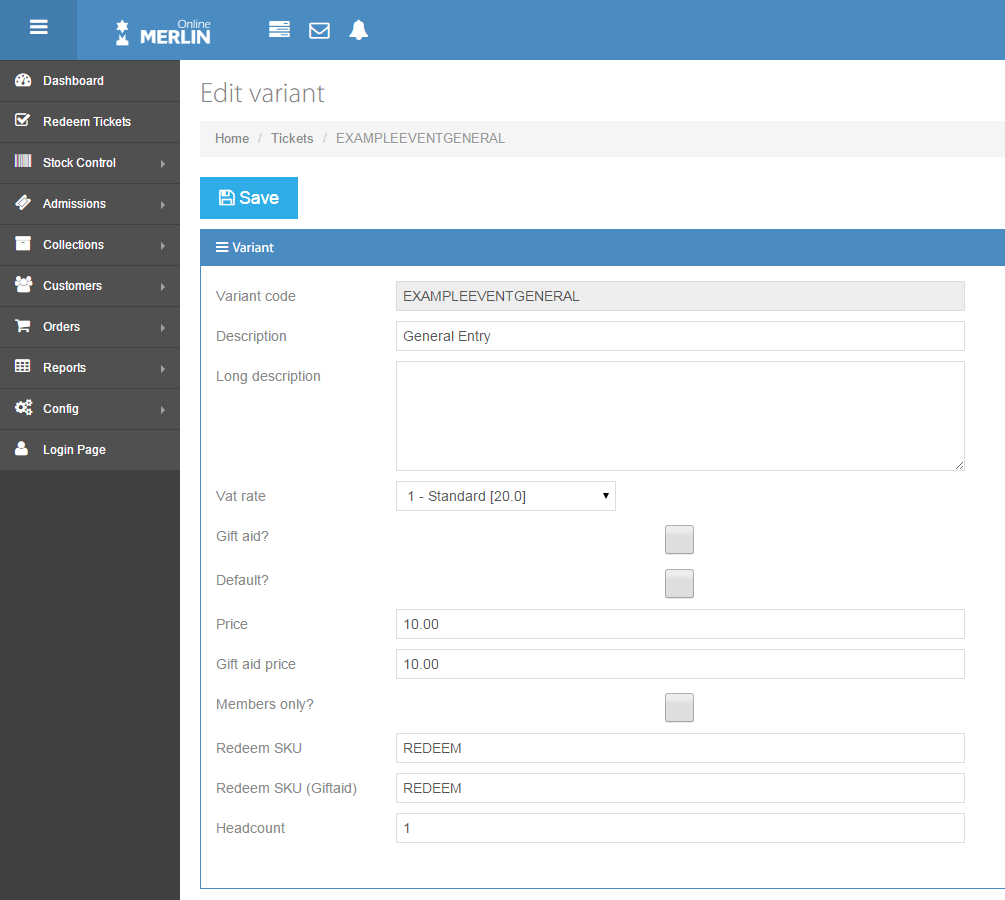 Variant Code: Must be unique & CAPS
Description: General Entry, Adult, Child, Member... etc.
Long description: Currently not implemented.
VAT rate: 0 or 20% (all prices are currently shown Inc VAT online)
Gift Aid: Used for charities
Default: Currently not implemented.
Price: Set price for ticket (This includes VAT)
Gift Aid price: Set price for gift aid ticket (Includes VAT)
Members only: If you sell memberships online, only people with member access can purchase this ticket.(currently only for use if memberships have been purchased online)
Redeem SKU: Only for use with Merlin® 8. for Online only websites, type in "REDEEM"
Headcount: How many people this ticket includes.
Display order: This is the order in which the ticket is displayed, 1 is shown first, 2, 3, 4 and so on are shown in order.
Available Online: If this ticket is to be sold online this should be checked. If you have "early bird tickets" you may want to hide these after a certain date but un-checking the box and saving.
Step 3. Setting the date and time of the event.
Here we can create different days, dates and times for our event. Create one of multiples based on your event.
Description: If left blank, user will see the date and time of the event when they select it.
Start Date: Start date of event.
End date: For one day event, select the same start date, for more days select a future date.
Start / End time: Time of the event.
MTWTFSS: When users can book tickets for, check to enable the day.
Maximum places: How many tickets can be sold per session.
Available Online: Check to make this live online. Un-check to remove this session. 
Maximum online: (For use with Merlin 8) Set to "0" to have the same quantity as maximum places.
To show these tickets online, they need to be added into a category, on this website they are called "Collections".
To see how to add tickets to a collection and the final step, click here.
Still need some help? Get in touch at www.merlinsoft.co.uk/contact