1. On the left hand side of the screen, double click on the 'Admissions' icon.
2. Double click on 'Diary'.
3. At the top click on 'New Event'.

4. A window will appear asking to select a template; click 'New' below the drop down menu.
5. An 'Edit Template' window will appear. Fill in the details.
The 'Description' is the name you would give the template.
Check the 'Publish Online' box if you want this event/ticket available online.
The 'Event', 'Ticket' and 'Redemption' Prefixes are used for the codes. They cannot be the same as other templates as this will create confusion. (Any prefix created will be followed by a number of 0's and a number. E.g. if the Event prefix is EV then when a new event is created from the template, the product code would be EV000001. If you use the Prefix TK for the tickets then each Ticket will begin TK000001 and so on, then each ticket has a redemption code that, if using the prefix RD would have the code RD000001 and so on. It is important to use prefixes to correctly create events online)
Select stock categories from the drop down menus available.
Click 'New'.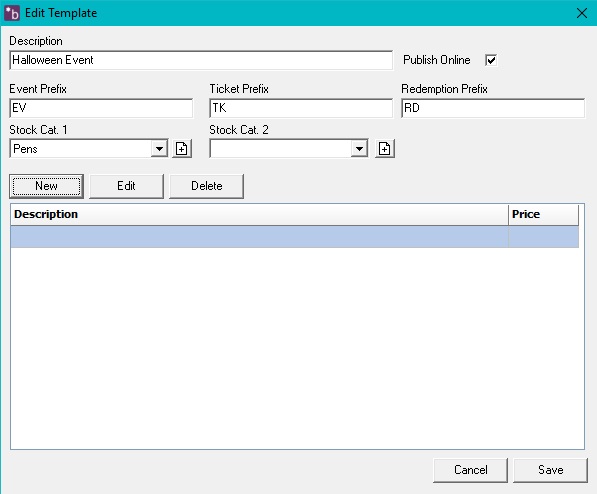 6. A 'Template Ticket Edit' menu will appear. This creates the type of tickets you want to sell for events. Fill in the details.
The 'Description' is the name you want to give the ticket, i.e. Adult.
Select a stock category from the drop down menus.
Enter your prices and VAT code. If you wish to use gift aid then fill these out also, or otherwise leave blank. Click 'OK'.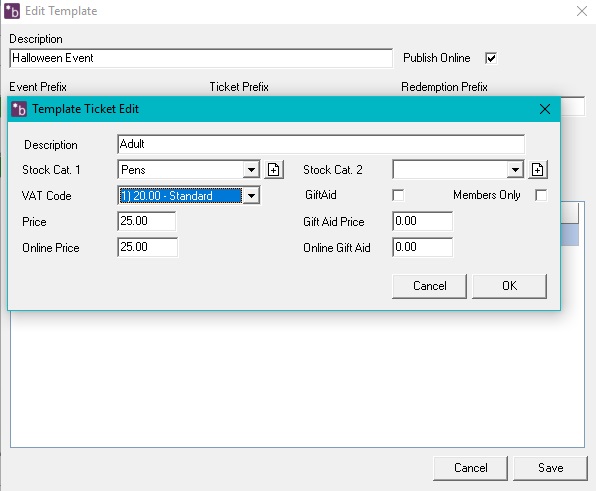 7. You will see the new ticket created in the 'Description' Repeat this process until you have all the tickets required. Click 'Save'. Your new template should now be created and will now be accessible from the drop down menu.
You do NOT need to create a new template every time you have an event. You only need a handful of templates. When you are creating the event, you can edit the details if necessary. 
Still need some help? Contact us at www.merlinsoft.co.uk/contact