Charities are able to take donations online, this could be a one off donation or it could be towards a specific project you may need funding for.
Setting up online donations is easy, follow the simple steps below:
1. Double click on 'Stock Control' and click on the 'Maintain Stock File' icon.

2. Create a new product code, for example 'DONATION' and then click on the 'New' icon.
3. Fill in the product description and details (this description will be seen online to your customers).
 - Type will be 'N – Non-Stock'. If you wish to Gift Aid the donation tick the 'Gift Aid' box below this.
 - Stock Category can be 'Donation' or you can create a new one.
 - Pack Type will be 'Units'. Click 'Save'.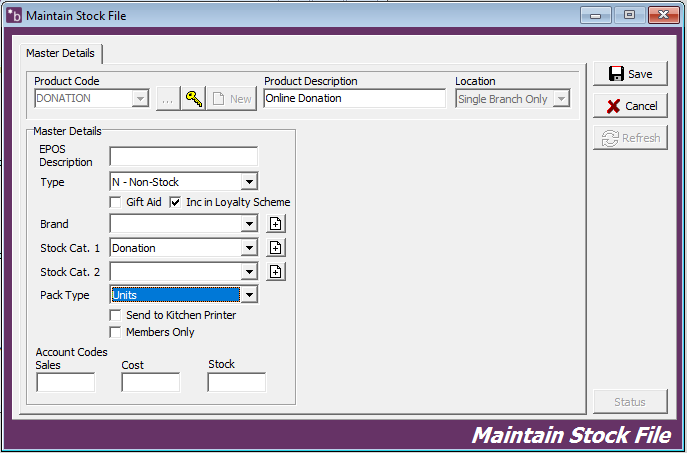 4. The window will change to the 'Pricing' tab. Fill in the details.
 - 'Pack Size' will be 1.
 - 'Last Unit Cost' will be 0.
 - Select a 'Price Scheme', 'Selling Price' or 'Margin'. Select the tax rate to your requirements.
 - Enter in a 'Cost' of the donation. (you can create more than one donation to give your customers a variety).
 - Click 'Add' and then 'Save'.
5. Click on the 'Merlin Online' tab at the top of the window. Tick the 'E-Commerce Stock' and 'Enabled for online purchase' boxes.
6. If you would like to add an online image, you can do this by selecting the 'Online Image' tab and uploading one.
7. Click 'Save'.
To make sure the donation goes online, you need to create a COLLECTION and add it in. You can do this here.